It is a beautiful place located in the Municipality of Guatapé, Antioquia – Colombia, the beautiful landscape inspired us to make this site a favorable place to build Serendipity with natural surroundings and the mirror of water that invites to connect with the harmony of the site. There is also a beautiful view of the Guatapé Stone, natural beauty.

We are waiting for you for a wonderful meeting…
A place that connects your senses.
Adventure, fun, well-being, natural connection and thousands of unique experiences are what you can enjoy in the company of us. Guatapé awaits you to connect your senses.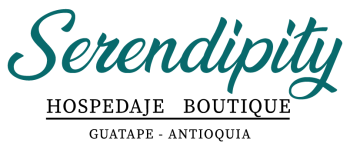 All our guests can enjoy all the spaces and services of the accommodation, the relaxation spaces such as the sauna, jacuzzi, gardens, surroundings, event room and much more.